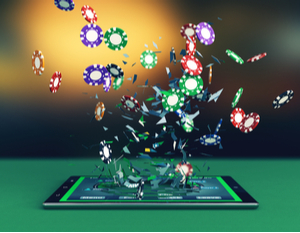 If you have been battling hard at the poker tables, you may or may not then fancy sitting down to watch a film in your spare time that is based on the game of poker!
However, if that is something you do fancy doing then I feel my following guide is certainly going to be worth reading through, as by doing so you will find out just what the best poker films are.
I have listed the top 10 poker films below in no particular order, but please do read through this guide of an overview and insight into each film and for reasons why I think you are going to enjoy watching each film.
If you much prefer reading about playing poker rather than watching a film based on poker, then please do make use of my additional guide about poker books, for I will be giving you lots of pointers at to just which ones you may be enjoy reading!
Rounders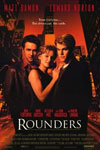 One film that I just know many poker players are going to enjoy watching is Rounders, and even though that film was released way back in 1998, over twenty years ago, it is still a fantastic film to watch and one that I can recommend to anybody who does have an interest in playing poker!
As for the genre of that film it can be best described as a Crime Drama, it was directed by the highly talented John Dahl and it is a poker films that starts Matt Damon, Edward Norton, Gretchen Mol and John Malkovich and it has grossed a whopping $22.91million!
Maverick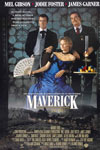 Another poker film that is actually even older than the one above, but is one that many poker players can watch time and time again and never get bored with watching is Maverick which was for reference released back in the year 1994.
I would call this film an Action, Adventure and Comedy film, and it will play havoc with your emotions when you do watch it!
Maverick was directed by Richard Donner and there are some very big name actors in that film including but certainly not limited to Mel Gibson, Jodie Foster, James Garner and Graham Greene, it is also a film that has grossed a huge $101.63million, which does of course give you a very clear indication of just how popular it was and still is!
The Cincinnati Kid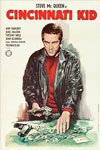 I did actually see The Cincinnati Kid on TV recently and to be fair I was impression by just what a timeless film it really is!
Admittedly it is by no stretch of the imagination and new film for it was released back in 1965, however it does go on to prove how poker has been part and parcel of many people's lives for many years, and if you are ever in the frame of mind to watch what can best be described as a drama type of film then this is certainly one I feel you will certainly enjoy watching for sure!
As for who directed it that was Norman Jewison and the stars of that film that do all play their parts perfectly are Steve McQueen, Ann-Margret, Edward G. Robinson and Karl Malden!
Casino Royale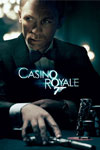 It is an action adventure thrill film you will be watching if you manage to get a copy of Casino Royale; it was released in 2006 so it is a fairly recent film and one that I am sure plenty of people will enjoy watching for the very high stake poker scenes.
It is of course as you may already be aware a James Bond film and it is very true and fair to say they do get a lot of attention from film and movie fans.
It was directed by Martin Campbell and the stars of the film are all well known actors of course and they include the likes of Daniel Craig, Eva Green, Judi Dench and Jeffrey Wright.
The Grand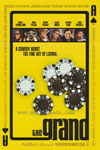 The Grand is a 2007 comedy film that you may enjoy watching, for it tells the story of a group of poker players that are competing in a real life poker tournament, and if a whole lot of fun to watch and should have you roaring with laughter at many points in the film!
The director who really did an excellent job in what one has to imagine was difficult filming areas was Zak Penn and the stars of that film include Woody Harrelson, David Cross, Dennis Farina and Cheryl Hines.
Shade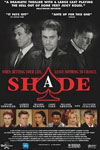 Moving onto another poker film I just know many of you out there will enjoy watching for sure, that film is Shade which is a crime thriller that was released back in 2003.
Based in Los Angeles the film tells the sort of poker hustlers and the situations they find themselves in and it was directed by Damian Nieman and the stars of that film include Joe Nicolo, Carl Mazzocone Sr., George Tovar and Frank Medrano who do all play their parts perfectly.
Do not let the fact that Shade only grossed $0.03million at the box office put you off watching this film , for I can as good as guarantee if you do love everything about poker you really are going to enjoy watching this film for sure.
Deal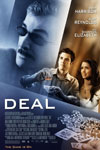 Deal is another film that you should try and include on what must now be an ever growing list of films to watch, and it was released in 2008 and is what I would certainly call a drama type of movie.
It tells the sort of how a retired gambler teaches a young guy how to play poker and then tells the unfolding story of the exploits he then gets into when drawn into the poker playing environments.
A good cast and an excellent direct that being Gil Cates Jr. does make this a film worth watching, and some of those stars include Burt Reynolds, Bret Harrison, Maria Mason and Shannon Elizabeth
Lucky You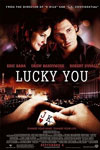 It is unusual for a film to cover the genres of drama, romance and even sport, but that is exactly what my next film I would like you to consider watching is best described as being.
That film is of course Lucky You which was released back in 2007, it features a poker player who has a huge number of personal problems who arrives in Las Vegas to try and win a major poker tournament.
The director of Lucky You was Curtis Hanson and the stars of the film includes the likes of Eric Bana, Drew Barrymore, Robert Duvall and also Phyllis Somerville, for reference this film was something of a box office hit having grossed some $5.76million.
All In: The Poker Movie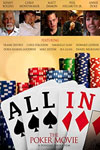 I have just a couple of other films to present to you that I do feel are certainly going to be worth watching if you do enjoy poker, and the next one in my list is All In: The Poker Movie that was released back in 2009 and is what I would say fits the Documentary genre of film.
It looks at how poker has developed over the year and explains just why it is many people playing poker as a way to try and live and achieve the American Dream.
You will be gripped with this film from the minute it starts I am sure of that and it is directed by Douglas Tirola and it stars Karen Abbott, Peter Alson, Nick Brancato and Humberto Brenes.
Keep in mind that you will be able to buy a copy of this and any other films presented to you in this list on many different websites, and I have seen each of the films for sales on Amazon for example, and you will additionally find plenty of film streaming sites that has this and many other poker films available too.
High Roller: The Stu Ungar Story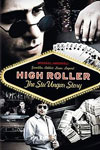 One final film you should certainly enjoy watching is High Roller: The Stu Ungar Story which was released back in 2003 and as you can probably tell from the title of this film it is a film that fits perfectly into the Biography and Drama genres!
It is going to tell the true story of the poker legend that is Stu Ungar and tell of his rise to fame and the fall from grace that he experienced.
It could also be suggested that this film could be a warning to some other poker players who may just find themselves in a similar situation as the one Stu did in his poker playing career, and it was directed by A.W. Vidmer and the stars of the films include actors such as Al Bernstein, Andrew N.S. Glazer, Michael Imperioli, Brian Kaplan